Weekly Blackjack Tournaments!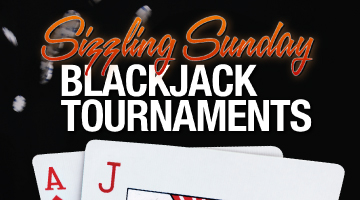 WIN YOUR SHARE OF OVER $3,800!
Sundays
2:00pm - 8:00pm
Your first entry is FREE, just swipe your Diamond Club Card at an offer kiosk to print out your entry.
Receive three more entries! Play for one hour for a second entry, two hours for a third entry, and three hours for a fourth entry.
Top weekly prize of $300 in non-negotiable gaming chips.