We're Giving Away TWO Cars!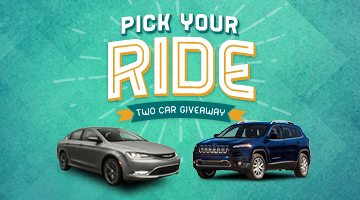 TWO new cars will be given away in April!
April 8 and April 29

Drawings will be held at 2:00pm, 4:00pm, 6:00pm, 8:00pm, and 10:00pm each Friday and Saturday, now through April 29. Ten names will be drawn to win an entry into the Qualifying Drawing, plus if present, each winner will receive $50 in Diamond Dollars. Earn entries by playing your favorite slot and table games, PLUS swipe your Diamond Club Card at an offer kiosk each day to receive 5 free entries.

TWO GRAND PRIZE DRAWINGS!
April 8 and April 29 at 11:00pm

Ten names will be chosen at each Grand Prize Drawing from the qualifying winners. Those ten winners will have a chance to choose the lucky key. Nine will win $500 IN DIAMOND DOLLARS and one will win a BRAND NEW CAR - GUARANTEED!