The Spazmatics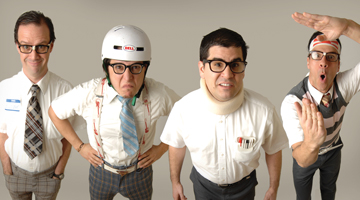 Date:
July 1, 2017 8:00pm
Cost:
NO COVER CHARGE!!!
Kick off your 4th of July weekend with the Ultimate 80's Show!

Known for their trademark style and 1980's dance moves, the Spazmatics lend their geeky charm to the tune of the decade's greatest hits and notable theme songs. The band performs beloved 80's classics, including "Take On Me," "Jessie's Girl," "Tainted Love," "Come On Eileen," "Bohemian Rhapsody," "Purple Rain," "Total Eclipse of the Heart" and many more.
The Spazmatics take audience members on an exciting trip down memory lane, performing the timeless tunes that have spanned the last three decades. Whether they're wowing crowds with their attire inspired by 80's film "Revenge of the Nerds," or dancing along to "Whip It," the Spazmatics put on a fun and unforgettable performance.