Blues Traveler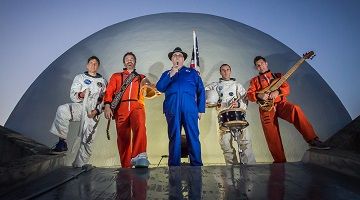 Date:
April 29, 2017 8:00pm
Cost:
Tickets from $45 plus taxes and convenience fees
Formed in New Jersey in the late 1980's, Blues Traveler released their self-titled debut album in 1990. The group went on to release five studio albums throughout the 1990's, including 1994's "four." The album sold more than 6 million copies in the U.S. and featured the hit single "Hook." In 1995, Blues Traveler won a Grammy Award for Best Rock Performance by a Duo or Group for their Top-10 hit, "Run-Around."

The band continued to make new music as the years went on, including seven additional albums since 2001. Their most recent work, 2015's "Blow Up the Moon," features collaborations with contemporary artists like the Plain White T's, Bowling for Soup, 3OH!3 and more.

Blues Traveler is comprised of John Popper on lead vocals, harmonica and guitar; Chan Kinchla on guitar; Brendan Hill on drums; Tad Kinchla on bass; and Ben Wilson on keyboards.

Box Office: 563-690-4758 / 800-582-5956
| | |
| --- | --- |
| Sun-Tues | Closed |
| Wednesdays | 5:00pm-9:00pm |
| Thurs–Sat | Open 3 hours prior to show |